Righto. Since getting a nice DSLR last year, I've been quite busy. Learning an absolute ton of useful information from YouTube on getting passable results.
I've since added a rather fine (if inexpensive) collection of film-making gear, and mixed it with a year's inexpensive (Thanks, Alistair!) subscription to the Adobe Creative Cloud post-production tools.
Audio gear
A Zoom H1 portable microphone and audio recorder. Much better than sound captured by the camera.
a Rode NTG2 shotgun boom microphone.
a cheapy but workable lavalier microphone.
Lenses
A small collection of kit and adapted DSLR lenses. eBay and pawnshops have been helpful.
18-55mm Canon kit lens.
A Canon 50mm F1.8 prime. It makes almost everything I shoot look quite lovely. It's my workhorse lens, especially in low light.
A Hanimex 135mm 3.5 Telephoto Portrait prime lens. It needs expert cleaning and repair – the lens is rather foggy.
A Soligor 75-250mm from the pawnshop.
A 49mm Variable Neutral Density Filter.
Camera stabilisation
Wobbly shots are distracting unless you're directing the next Bourne film.
AmazonBasics steel tripod. It's already falling apart – I carry an Allan key just in case it buggers up on location. Recommendations for a better video head tripod are welcome.
Cheapy eimo DSLR shoulder mount rig with a Follow Focus and Matte Box – not bad, it's very good for handheld work, although best with wide lenses.
I also have a fake Steadicam stabiliser gimbal – but either I cannot balance the thing, or it's a cheap knock-off piece of shit.
Lights and miscellaneous
Two LED panels, and tripods.
A Glide Gear DEV-1000 23″ DSLR slider.
Software
The Adobe Creative Cloud suite is excellent. Adobe Premiere Pro and Audition are fantastic for video editing, colour correction, cleaning up and mastering audio. If a shot needs work – painting out a boom microphone shadow, a little bit of painting out dodgy lighting – then After Effects is superb (It is much more powerful than I have understanding at the present moment).
Additionally, I have picked up one plugin which has helped immeasurably at rescuing poor footage.
Neat Video – it's a rather powerful noise-reduction bit of code. If a shot is photographed in low light, and I raise camera light sensitivity to compensate, video noise becomes apparent quickly. This does a great job of sampling areas of heavy noise, and then removing it. It's visual sorcery.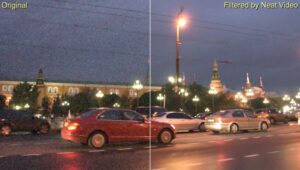 Most of my work is talking heads, mixed with a little stock footage and location footage. This is relatively easy to manage. With activism, I pack the shoulder mount, wide kit lens, and use location sound. With talking heads interviews, I pack both microphones and the tripod.
Locations
During the course of the election campaign – I gathered footage from Glasgow, Paisley and Edinburgh. Colin Fox demonstrated reasonable patience as I got to grips with the work. I grabbed material from stalls, interventions, meetings, planning, stock footage, hustings, canvassing and leafleting alike. In between – I added short vox-pop interviews. ("In ten words, why should we vote RISE?").
After the election, it was time to reflect and go interview the activists and some lead candidates. Travelled to Clydebank, Glasgow, Edinburgh, Stirling and Dundee. Both Jim and Christine McVicar and a comrade from Fife took time out of their lives to come to Edinburgh. They were very all helpful and forthcoming.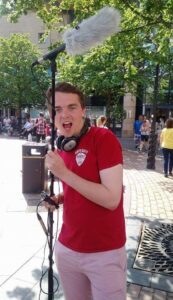 The questioning was around:
Election campaign and outcome.
Future or ongoing relationship with RISE.
Future of the party.
Development opportunities for yourself, the comrades, and the SSP.
Where can we reach out further than we have?
Policy.
What lessons can we learn, given the past 6-12 months?
And a bit of remembering our outgoing joint national spokesperson, Sandra Webster!
Calum to the rescue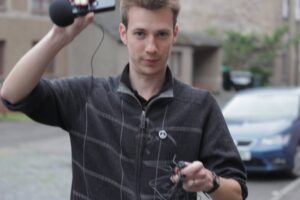 Where I could not be there, the irrepressible Calum Martin was. He usually carries a tripod and a small point and shoot camera. Image quality wasn't terribly good – it was low resolution and highly compressed video. Fast-moving shots suffered horribly from rolling shutter defects. But selective editing, colour correction and a "Detail-preserving upscale" filter made most of it passable.
He also helped get me out of a creative hole on the night before – trying to find a clear narrative to bind the film together. A telephone as a teleprompter, a hastily written script, a wide-open 50mm lens, and a well disguised lavalier microphone.
All in all, it seemed to go down quite well. I don't think anyone minded me putting Mass Effect 2's "Suicide Mission" track over the RISE campaign montage.
There's much to do, and more to learn.
In the meantime, I've been elected to the post of Scottish Socialist Party social media co-ordinator, so I'll learn more about crafting the message, graphics, boiling down copy, photography, video, colour correction, digital media.