Well, that was an interesting weekend…
Second-to-last Friday, I get home. Bit tired, needing to wring myself out before a weekend's campaigning. Check Facebook and Twitter. The ever alert Connor Beaton (@zcbeaton) highlighted this tweet from Natalie McGarry – a recent SNP parliamentary candidate and activist within Women for Independence (give 'em a couple of quid here):
Anyone want to join us in Brussels. Free trip! Free accommodation. Let me know ASAP. Bus leaves at 8 from Glasgow, picking up in Edinb too.

— Natalie McGarry (@nataliemcgarry) March 28, 2014


I rarely take trips abroad – I prefer just jumping on a train and abusing the kind hospitality of friends and family across Scotland. Mostly a matter of being skint a lot. But, one quick search for my passport later, an even more hastily stuffed bag of belongings, three days growth on my face, and I'm on Waterloo Place at 9pm, nursing a slight head-rush and sleep-deprivation with a double espresso and a strawberry ice-cream cone. Waiting, waiting, waiting. What is my purpose there? I come up with the reasonable answer – to be a living exhibit of democratic process, dialogue and consensus. And it's in this spirit that I answered the call – and that I have around a hundred EUR for food and booze spare this month.
I see a chronologically-more-gifted-than-I couple emerging from a nearby pub, both wearing Yes badges. I smile in recognition, and they smile back.
"Are you here for the Brussels trip?"
"Aye, son. Are you Scott?"
Quick hugs exchanged. They're Alice and Brian McGarry – Natalie's mum and dad. Alice is an Inverkeithing councillor for the SNP, Brian is retired. We head into the Waterloo bar together. I'm not quite sure what's just happened, but we take our seats – shake hands with another couple – Tam and Joan – and order a quick glass of Laphroaig 10 year old for the road. There's a musician playing the banjo (complete with a Vote Yes for Scottish Independence sticker covering much of it), belting out an addictive ditty or six, which rolls around in our heads for hours, but I can't for the life of me tell you what the words are now.
At this point, I had barely considered how we're actually getting to Brussels, whether it'll be boat or train. An email from Natalie pings from my phone – a 14 hour coach and ferry trip. Ouch. At this time, I'm wishing I'd brought sleeping tablets. Still, if these auld yins can do it, so can I. We'll see how it goes.
The minibus rolls up nearby. Out pours another handful of engaging and friendly people and the young musicians (drummer Arran – from Northern Ireland – and piper Craig – also a pipemaker and fledgling businessman in his own right), welcoming all of us and piling on luggage. We jump in and find a seat. There's bottles of vodka, and enough Irn-Bru to float HMS Victory. A brief oh-crap moment: is everyone going to be pissed and incorrigible? Should I have brought my own boozahol for sharing? It's not a big deal. Dinnae sweat the small stuff, Scottie-boy!
Our long-suffering driver, Gareth – with his head perpetually screwed on, no matter what's happening, our other driver, Shug – a fellow Leither, studying psychology and a volunteer for the Samaritans and Craig's girlfriend whose name regretfully escapes me. Also along for the ride, the irrepressible Sarah Hamlin, a young New Zealander, studying in Scotland, separated from her husband by unjust and frankly daft UK immigration law. She wrote her own account of the trip.
The first part of the trip was a blast. We chatted, we debated, we sang Scottish songs (I finally got to sing the recently learned For A' That in full – I'm quite good), we talked of New Zealand politics, what independence meant to each of us and what brought us to Yes. It was quite wonderful. Each of us, complete strangers who could not be more different to one another, united in a common cause of national and personal empowerment. I made it clear that I was a relatively new party hack in the Scottish Socialist Party, so party business was off the agenda for discussion – although politics and campaigning was ripe for rich blether.
It's very much a microcosm of the Yes campaign in general. Disparate and wildly different people, brought together united. I have made more friends in the past 2 years in this campaign than I have in 20 years of outside life. One of these days, I'm going to ask myself why that is.
The latter half was less nice. Everyone was knackered and grumpy. The musicians were pissed and singing loudly in their slumber. With legs and buttocks uncomfortably falling asleep, I knew I wasn't going to get much in the way of rest. I manage some, and am told that I kept quite a few awake due to snoring. We get to Dover, passing misty and grey buildings on the way, ghost buildings reminding me a little of Pripyat photographs, desperately in need of regeneration and tourism attractions.
An affably quick trip through French border control, and the P&O ferry affords us time to stretch our legs and maybe swig some more coffees. We do so and go for a walk on deck. No-one's in a particularly chatty mood, I take the hint. The sun threatens to rise for about 10 minutes, creating a gorgeous golden-red aura of cloud, mist and cold. On the deck, braced and awakened with the cold, I read Tony Benn's diaries – about the time of 9/11, engage with a simple sweet humanity of a life well-examined – and resolve to write more often. Probably won't happen, but I'll continue to manage the guilt.
Off the ferry and into Calais. The heat is beginning to take hold, and it does so as we drift through north east France and into Belgium. The scenery is flat as a billiard table. I listen to French lessons podcasts on the trip, trying to brush up briefly on my terrible French vocabulary and grammar.
After an hour of fighting with spelling mistakes and the sat-nav, we arrive at a house above a pharmacy, owned by a member of the Nieuwe Vlaamse Alliantie (NVA) – a conservative political party seeking Flemish independence. We meet up with various other SNP party hacks and campaigners, almost all of whom I've met through social media, Yes Scotland and social events. I like Shona McAlpine – a gallus gob from Govan – almost immediately. The group tuck into a quick feed on salad, bread, cheese, mayonnaise, olives and fruit.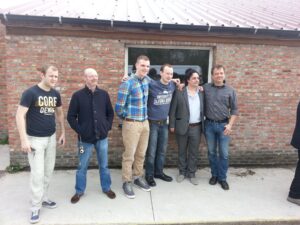 It turns out that the brewery that was to be our home for the night is unavailable. The "pissup in a brewery" joke aside, accommodation is quickly found near the small town of Sint-Niklaas. It's basic, and smells of newly-assembled furniture and horses. We leave our bags and quickly depart for a short tour of Sint-Niklaas. Our guides speak decent English, while occasionally falling to a mixture of Dutch and French when the vocabulary isn't all there. It's all quite amicable and fun. The musicians play a quick set in front of the massive town hall, directly in front of the Grote Markt – the largest market square in Belgium, which recently celebrated 500 years in existence, and convenes every Thursday.
Noting the sheer number of bicycles in wide use – I strike up a conversation with a town councillor who is also a teacher, discussing the nature of local government in Flanders. We're given a tour of the town centre, and brought to a tobacco museum, featuring a mighty collection of all things baccy – including the world's biggest cigar, historical records of tobacco trading documents and surprisingly intricate and beautiful pipes and holders. To cement the idea that is is a hobbit's paradise, we were drawn upstairs for a half-pint of our choosing. The room was coated in a perfumed fug of pipe smoke, Borkum Riff Cherry. As I get older, I could totally get into this kind of simple luxury.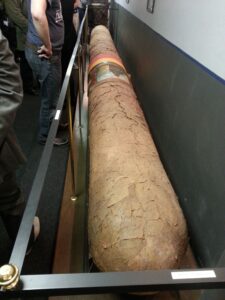 Now – the Belgians don't fuck about with beer. Best of the lot was Tripel Klok – manufactured by Boelens brewery, a very local brewing company founded around the 1850s in Church Street. Sweet, rich, creamy and incredibly refreshing.
As we drank, unwound and generally chit-chatted with interesting and interested strangers, the young daughter of one of the councillors played Flemish pipes. There's a lingering melancholy to the tune and the pipes themselves; a sad, serene gentleness – compared to the raucous skirling of the Scots bagpipe. The young lady was then joined by Craig, our own piper. There was a curious joy, and an ecstacy of fumbling as the people in the room connected, in talk, drink and music. In that moment, it was laid abundantly clear, national self-determination and cross-border kinship are quite simply not, and should never be considered, mutually exclusive concepts.
That's not to say there aren't serious, difficult political ramifications that'll be simply wished away.
After the tobacco and beer, we went to a local pub. A bit of broken French and pointing at beers later, the little differences came to light. Each glass was washed and the beer poured in front of my eyes. The bartender then took a straight-edged implement, and wiped off the top of the head immediately and plopped it on the counter, cold froth still dribbling down. It was then I discovered Duvel – a very quaffable but rather strong Belgian beer. Downed a bottle. I ordered another two, for myself and the councillor. Alas, we were quickly hurried off – so now, I've got two open bottles of powerful beer to drink myself, and heading across town for dinner. And the alcohol from the previous drinks was beginning to take effect.
Across town for our dinner – most of us got the local Flemish stew, delicious tender beef, soaked in thick savoury gravy; mopped up with undercooked chips. During the meal, I got to know Craig quite well, his business aspirations and his growing family.
Half of us wanted to retire for the evening, the other half wanted to continue on a pub crawl. Being the delirious fool, I was delighted to do so. It became a blur after a while: we crawled, we drank some more, we shared Yes Scotland campaign gossip, we chain-smoked, we collected interesting local people, we hugged and shared our stories, we said our goodbyes to our gracious councillor hosts, we debated the nature of Yes Scotland's civic nationalist-green-and-socialist movement with right-wing Flemish nationalists, and left-wingers who want to remain part of Belgium. The left-right divide is just as powerful, and just as deeply felt – but it was odd to feel the shoe on the other foot.
A taxi-ride that I don't remember, a desperate hangover, a gob like an ashtray and scary levels of snoring, a couple of Danish sweet pastries, and we're piling back on the minibus to head to the self-determination rally in Brussels, in Cinquantenaire Park. We're there quite early, but thousands of Catalans are there already amid the glorious gardens. I feel like a fifth wheel, but engage anyway. An assembled bamboo-stick and Saltire later, and I'm flying the flag for my country, engaging in conversation with the assembled.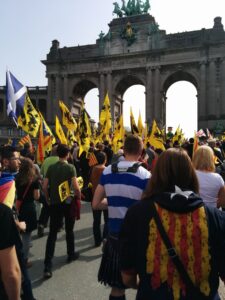 I'm reminded of arch-unionist Sir Walter Scott: "Breathes there the man, with soul so dead / Who never to himself hath said / This is my own, my native land!" – I start to miss Scotland, even though I'm going back in a mere five hours. An elderly Flemish gentleman stops me, and gives me a scarf. I don't have anything to return, other than a copy of the SSP's The Case For an Independent Socialist Scotland, a grateful hug and my thanks.
In addition to Catalans and Flemish, there were Sicilians, Basques, South Tyrolians (whose flag is identical to the St George's cross – I've seen enough of those on the opposing side of anti-racist marches!) and others. The crowd is nowhere near the size of Edinburgh's March and Rally for Scottish Independence – but it's considerable, nevertheless. I'd say around 4,500 people – although I'm briefed to say it was 25,000. Bollocks. There are little white lies and there are whoppers. 🙂
But each of them would give something truly precious to have the what we have in Scotland. To them, and myself – it is the opportunity of a lifetime. And voting Yes, we would change their fortunes, too. Given my political compass, I find it ironic as hell that by choosing independence to escape from a horrendous right-wing government, we could liberate and empower other right-wingers within Europe.
It's the price of self-determination. The freedom to choose to make bad decisions – but the power to correct them if the people decide.